At PEAK Fitness, we provide world-class equipment and an encouraging environment to make sure you get the best workout possible. Unlike most gyms, we are fully transparent with our members. Below is a list of the equipment found throughout our 24 hour facility. Whether you're a beginner or a professional athlete, we have the equipment you need!
At PEAK Fitness, our cardio equipment is breaking the exercise norm. All of our cardio equipment is Apple GymKit certified and works in sync with your Apple Watch to track your workout metrics in real time. All of your data is safely encrypted and only stored on your device.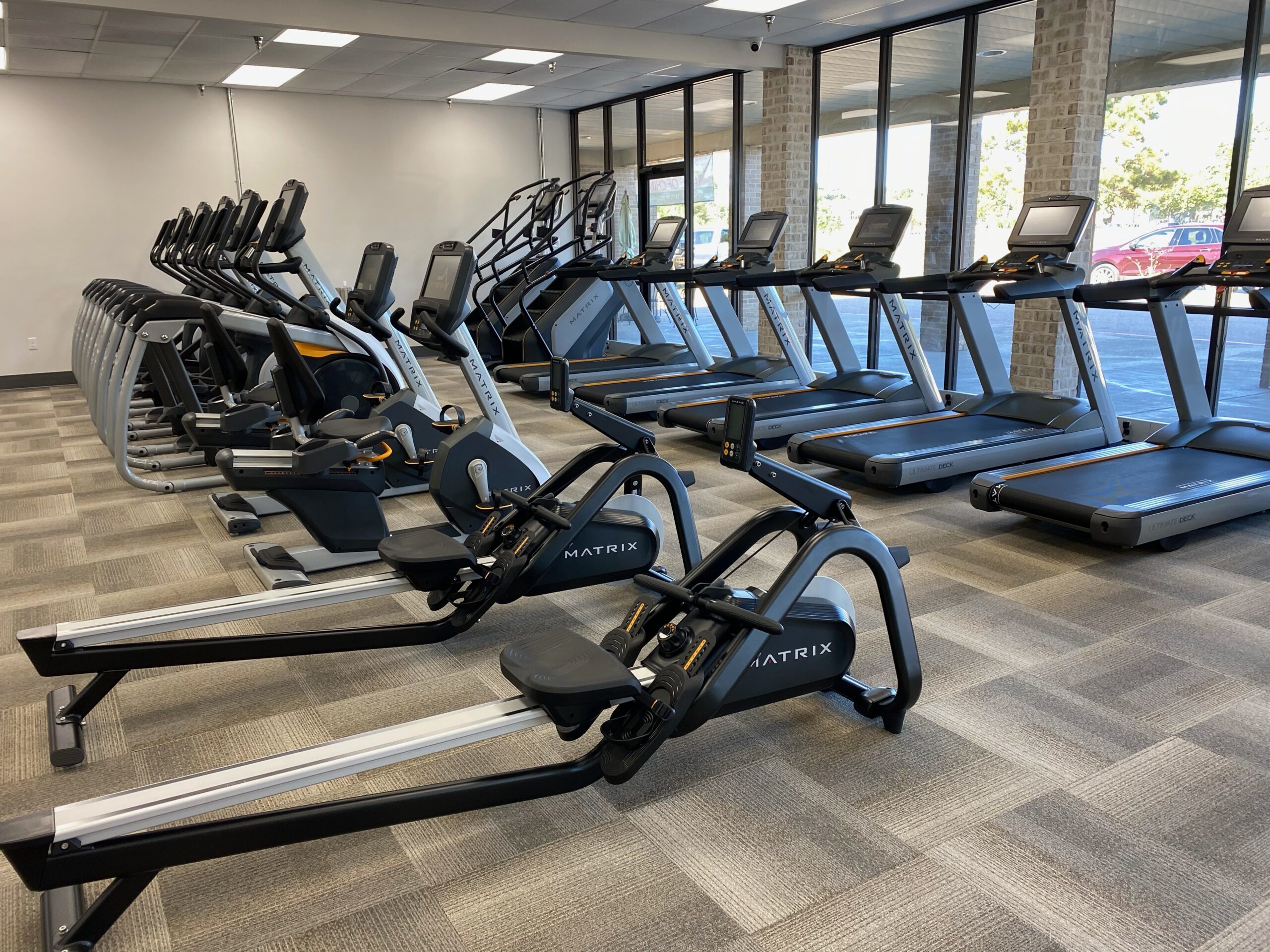 Our Cardio Equipment includes personalized touch screens which allow you to:
Browse your social media feed via Facebook, Instagram, or Twitter
Watch video content from Netflix, Youtube or Live TV
Stream music from Spotify or Youtube
Sync your Workout Metrics with Apple GymKit or MyFitnessPal
Still bored? All machines have Solitaire built it. :)
Each cardio machine is also equipped with an integrated heart rate monitor and a USB port to charge electronic devices.
Cardio Equipment List
Ascent Trainer (x2)
Climbmill (x2)
Elliptical (x4)
Recumbent Bike (x2)
Rowers (x2)
Treadmill (x5)
Upright Bike (x1)
Selectorized Equipment includes machines which allow you to easily select weighted reps by using a pull pin to choose a weight. All the weights above the inserted pin will be lifted and are secured by two rods which run through each of the weights. Adjusting weights on a selectorized machine is extremely simple and only takes a matter of seconds. This also makes it simple to find your maximum strength on the fly. Many selectorized strength machines are designed so you can adjust the weights without even getting up and interrupting your workout.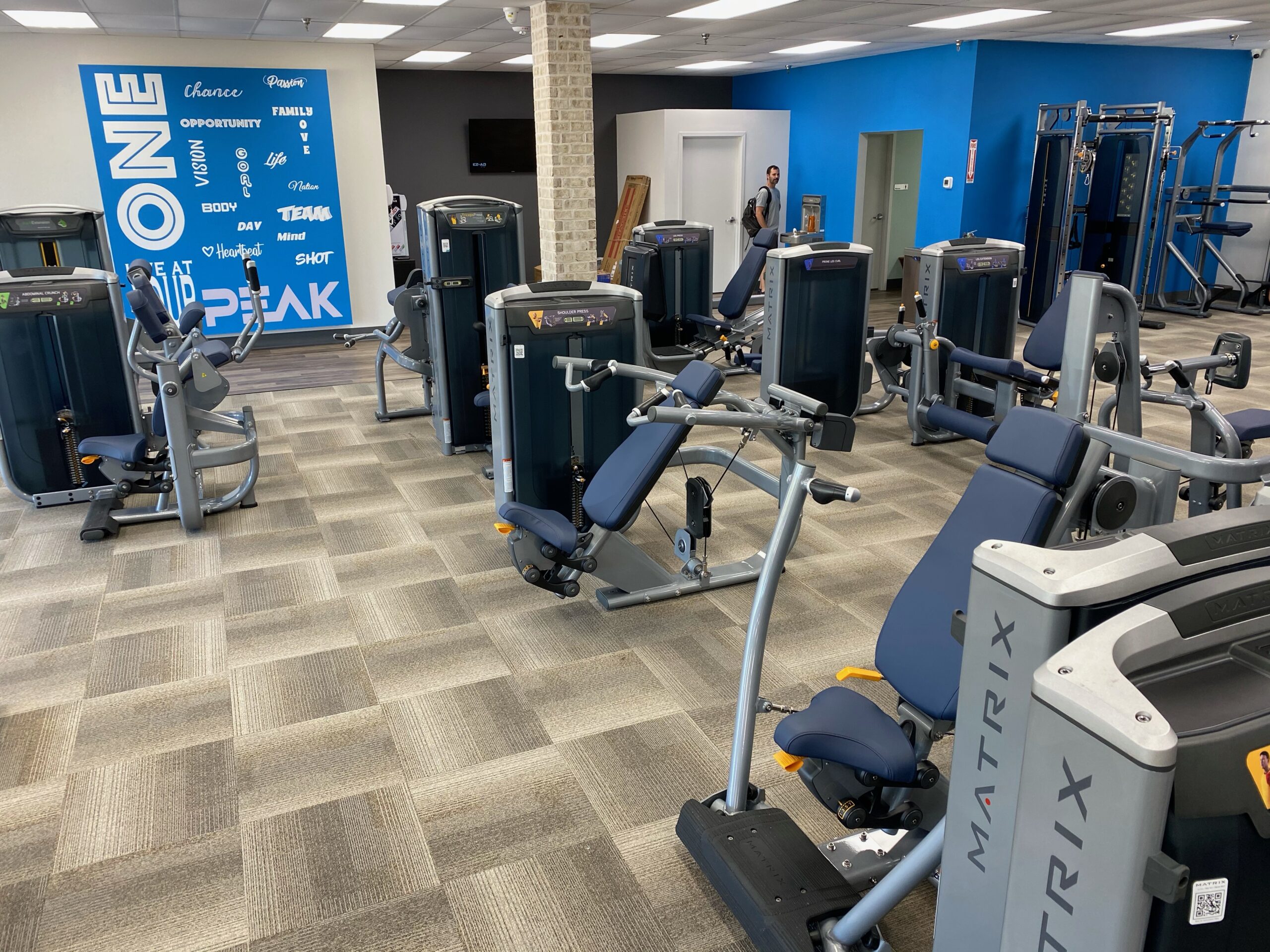 PEAK Fitness provides scannable QR codes on each selectorized machine. When scanned via the camera on your phone, a video demonstration on how to use the selected machine will appear.
Each machine is also equipped with an LED screen which shows counted reps and the amount of time since the first rep was started.
Selectorized Equipment List
Abdominal Crunch (x1)
Back Extension + Heavy Stack (x1)
Bicep + Heavy Stack (x1)
Heavy Functional Trainer (x1)
Leg Extension (x1)
Leg Press (x1)
Prone Leg Curl (x1)
Rear Dell/Pec Fly (x1)
Seated Row (x1)
Seated Tricep + Heavy Stack (x1)
Stack with V-bar, Curl Bar, Ropes, and Ankle Straps (x1)
Triceps Pressdown (x1)
Plate Loaded Equipment includes machines which require the use of conventional round plates, the same plates you find on barbells. These plates are hung on the machine and while they generally have limits, plate loaded machine maximum weight limits generally far exceed those of the selectorized equipment limits.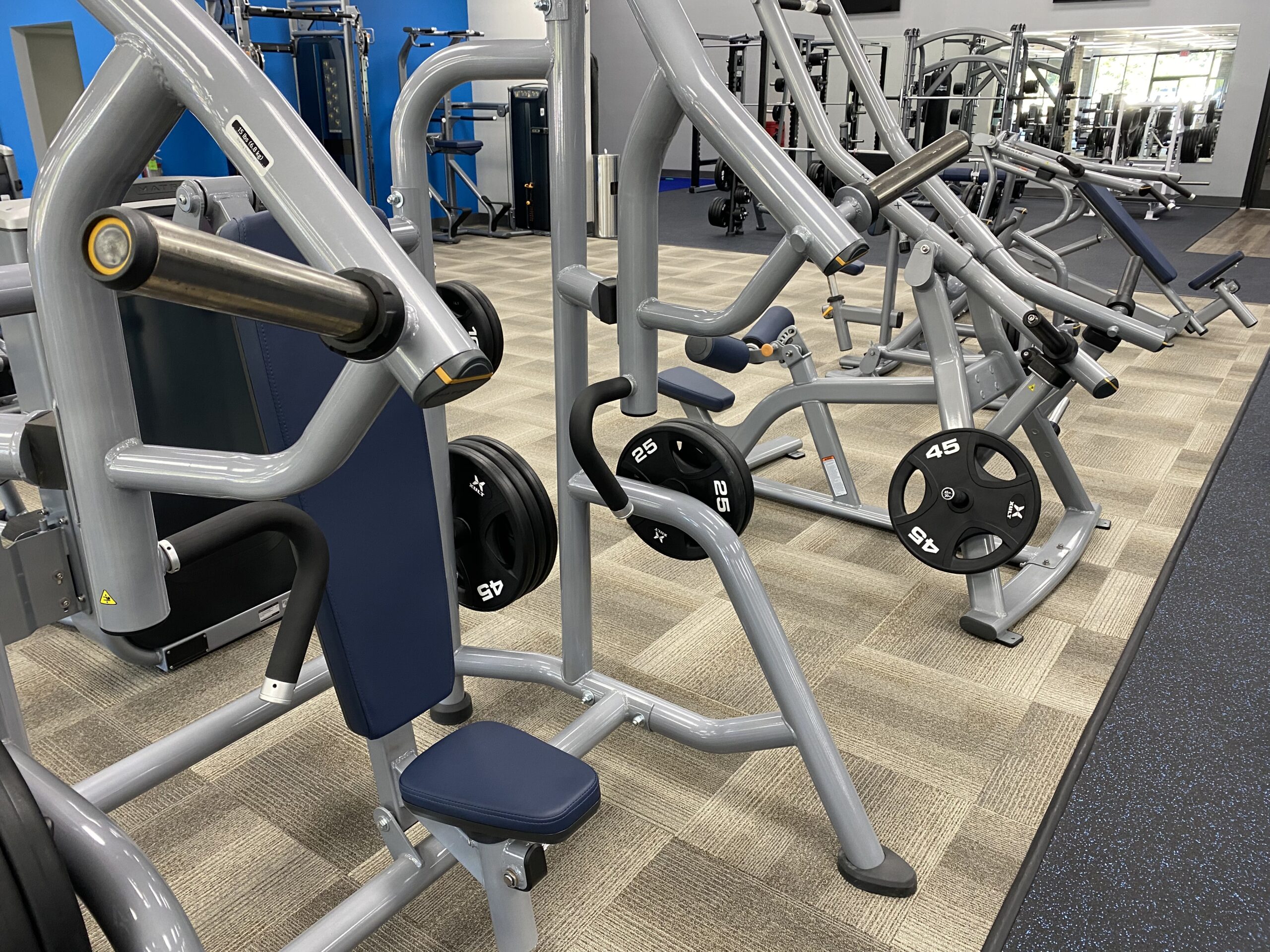 Each plate loaded machine is designed with right-to-left independent motion to help replicate how the body naturally moves.
Plate Loaded Equipment List
45 Degree Leg Press (x1)
Adjustable Decline Bench (x1)
Converging Chets Press (x1)
Converging Shoulder Press (x1)
Diverging Seated Row (x1)
Full Power Rack, 8′ Tall (x1)
Incline Bench Press (x1)
Lat Pulldown (x1)
MG-PL62 Smith Machine (x1)
Olympic Flat Bench (x1)
Pit Shark (x1)
Plate Loaded Leg Press (x1)
Preacher Curl (x1)
Rubber Weight Plates (2.5lb, 5lb, 10lb, 25lb, 45lb)
Seated Calf
Utility Bench
Vertical Bench Press
Free Weight & Functional Equipment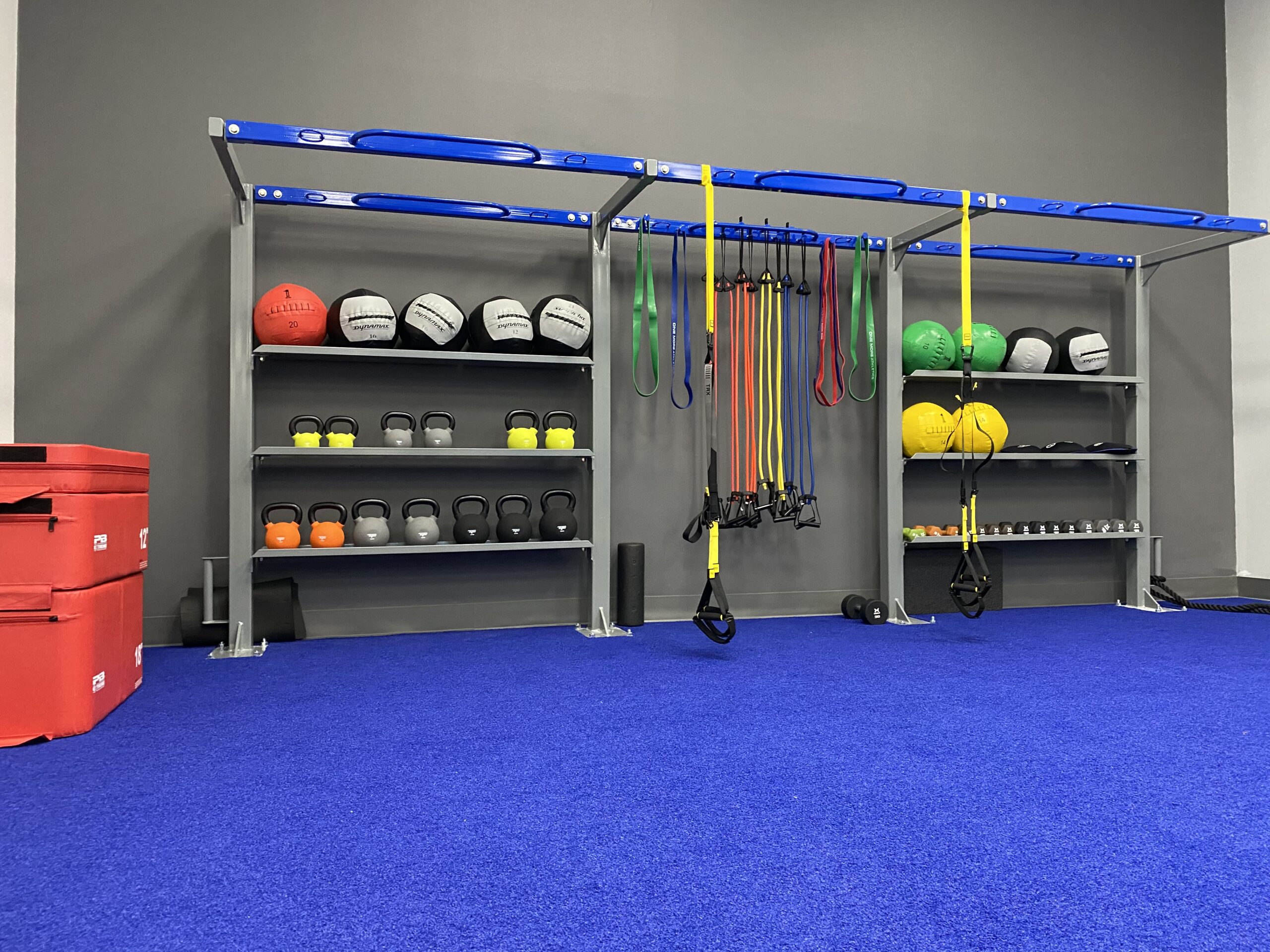 Free Weight & Functional Equipment List
Back Extension Bench
Bands
Dumbells (5lbs to 110lbs, in 5 lb increments)
Heavy Weight Punching Bag (x1)
Kettlebells
Plyo Boxes
Slam Balls
TRX Trainers
Wall Balls
VKR with Chin
Squats are one of the most functional movements you can include in your workout routine. By strengthening the lower-body muscle groups used in squats, you can improve your mobility, balance, and endurance. At Peak Fitness, we offer both free range and controlled squat machines which can help you to develop proper form by keeping the motion path centered and balanced.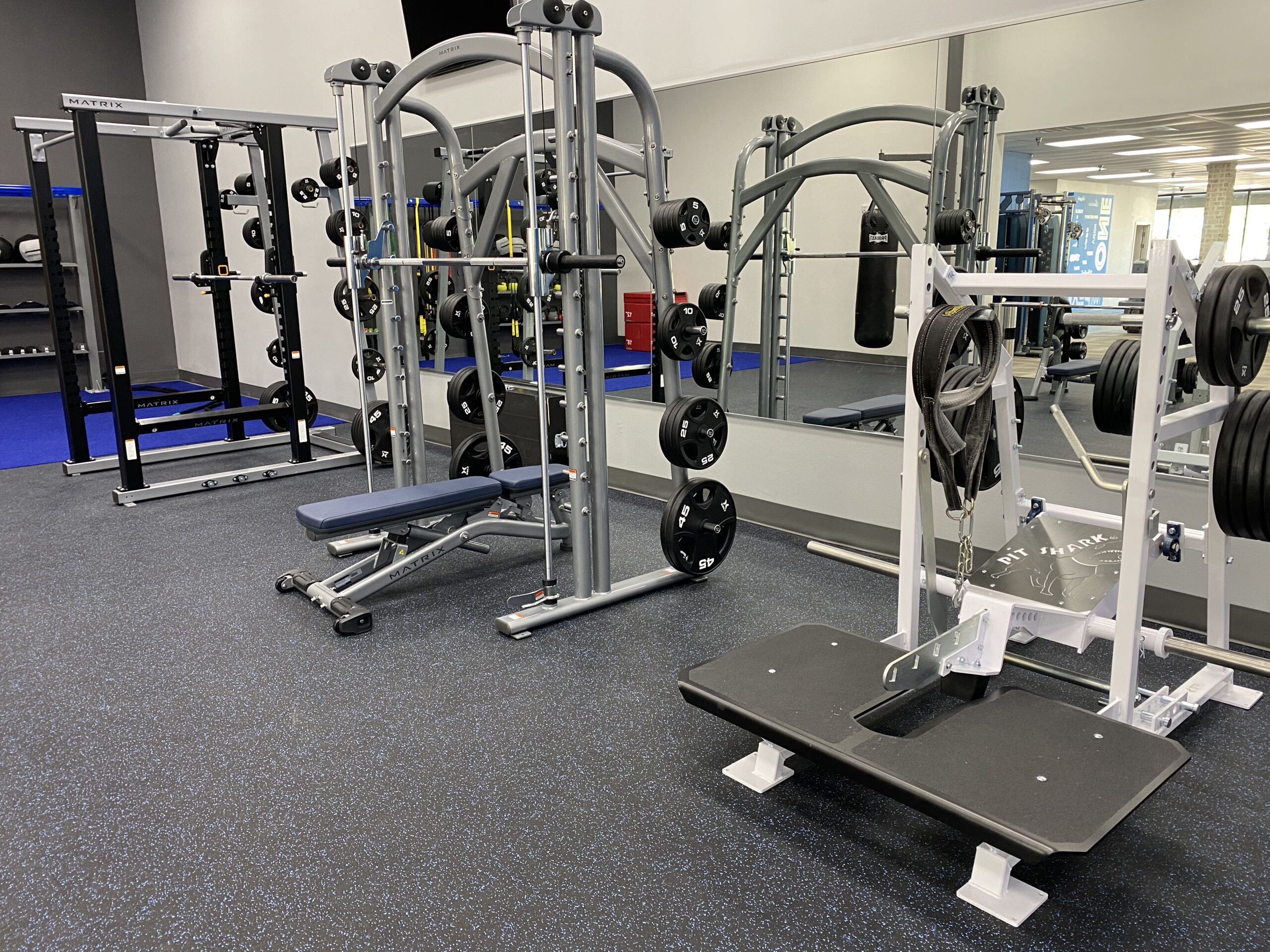 Squat Equipment List
45 Degree Leg Press (x1)
Full Power Rack, 8′ Tall (x1)
MG-PL62 Smith Machine (x1)
Pit Shark (x1)